Jury finds Jesse Vasquez guilty of capital murder, will spend life in prison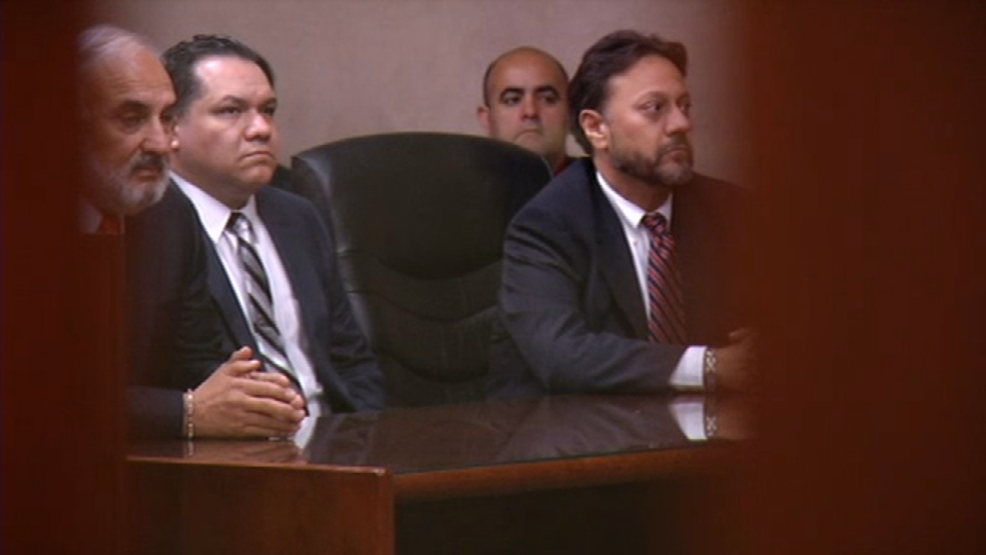 EL PASO, Texas (KFOX14) —
Thursday an El Paso family heard the words they've waited more than four years to hear, "guilty."

A jury convicted Jesse Vasquez, 41, of capital murder for killing Miriam Aguirre Salas on February 23, 2013.
Miriam was found dead in her apartment in South El Paso on South Florence Street.
During closing arguments prosecutors told jurors "It was so violent in Apartment 7, blood was everywhere."
Earlier in the week, jurors saw graphic photos from the crime scene.
Thursday, after deliberating for about four hours, the jury found Vasquez guilty of capital murder.
"We did it. We did it for my mom. Justice has been served," said Selena Salas, Miriam's oldest daughter.
Salas was just 15 when her mother was murdered by Vasquez. Miriam also had two other children.
Thursday, a jury gave Miriam's family the justice they were seeking.
It's been more than four years since Miriam's murder. The trial was rescheduled eight times and the delays were the subject of a KFOX14 Investigation.
"I don't know how to express how I feel right now. I just feel justice has been served for my sister. We have waited for four years," said Victoria Soria, Miriam's oldest sister.
"It was worth the wait," said sister Laura Aguirre.
When the verdict was read, Vasquez hung his head.
Outside the courtroom, Miriam's family cried and hugged each other.
"It finally closes that chapter, we waited so long, the waiting is over," said Miriam's baby sister Lorena Magallanes.
"We can finally breathe," said Salas.
The family also hugged prosecutor James Montoya.
"Nothing we are going to be able to do, is going to bring back Ms. Aguirre," said Montoya.
Jurors heard how Vasquez broke into Miriam's apartment at 4 a.m. carrying a machete and a pocket knife and slit her throat.
"Why did he break in at 4 a.m.? Why not 1 a.m.? Or midnight? Because he was watching them, waiting. Waiting to strike," Montoya told jurors.
Vasquez also stabbed a man Miriam had just started dating, Enrique Contreras.
"It was a failed attempt to kill Contreras," said Montoya.
Contreras, one of the state's star witnesses, testified that Vasquez also tried to cut his throat, but a chain Contreras was wearing got tangled in the blade.
Vasquez told Contreras if he couldn't have Miriam, then nobody could.
Prosecutors told jurors in their closing arguments, that's exactly what happened.
"Jesse Vasquez made sure no one ever had Miriam Aguirre again," Montoya told jurors.
"I think all of the physical evidence made it pretty clear that Mr. Vasquez was the one who killed her," Montoya told KFOX14.
The state presented DNA evidence and fingerprints tying Vasquez to the crime scene.
They also showed video of Vasquez purchasing a machete at a Walmart a week before the murder. The machete box was found inside Vasquez's truck. The machete was found inside Miriam's apartment. Vasquez's fingerprints were on the machete.
The bloody 5-inch folding knife was found inside his truck. Miriam's blood and Contreras' blood was confirmed through DNA analysis to be on the knife.
Contreras' cellphone and Miriam's debit card were found in Vasquez's truck.
The state also presented an eye witness. Miriam's roommate's daughter was 10 years old at the time and was in the apartment when Vasquez broke in.
She is now 14 and took the stand to testify that Vasquez stabbed Miriam.
Vasquez, turned himself into police around 7 p.m. on the 23rd.
"He shouldn't get brownie points for turning himself in when he knows what he's done," Montoya told jurors.
When Vasquez turned himself in, he had blood on one of his fingers. DNA analysis showed it was a positive match to Contreras and inconclusive for Miriam, meaning the lab could not rule her out.
The defense team did not call a single witness during the trial. But during closing arguments defense attorney Joe Spencer argued, it was actually Contreras who killed Miriam.
"When Jesse Vasquez left the apartment Miriam was alive. When Enrique Contreras left the apartment, she was not alive," Spencer told the jury.
Spencer relied on testimony that a neighbor heard arguing, after Vasquez left the apartment and Contreras returned.
"I thought it was a bit out there," said Montoya of the defense's theory.
Capital murder comes with an automatic life sentence without the possibility of parole.
"He is getting what he deserves," said Magallanes.
Miriam died on an apartment floor and now Vasquez will die in prison.
"He's never going to get out. He's never going to be able to hurt anyone else," said Soria.
Now Miriam's family will remember, not how she died, but how she lived.
"Her energy, (she was) strong, happy, loving, we keep it," said Soria.
It's a spirit her three sisters say they see every day, in Miriam's children
Vasquez was also convicted of aggravated assault for stabbing Enrique Contreras. The sentencing for that charge will take place before Judge Sam Medrano in two weeks.
Vasquez's family left the courtroom in tears. They declined to comment. But his younger sister shared this statement with KFOX14. She said, "We are beside ourselves with worry over his fate. We wonder 'what must he be feeling.'"
His sister said Vasquez loved Miriam. She also said, they believe he was just in the wrong place at the wrong time.
KFOX14 was unable to speak with the defense attorneys directly after Thursday's verdict.
Unmute